Description
MAMAVEGE Vegetarian Soy Protein Meat / Vegan - BBQ Flavor (22gm x 20pcs x 1 Box)

✅0% cholesterol ✅Chewy Taste ✅Natural Ingredients ✅Ultra Low Fat

Product Name: MAMAVEGE Soy Protein Meat
Product Net Weight: 22g/packet
Storage Method: Keep in a cool and dry place away from direct sunlight
How to eat: Ready to eat
Product Shelf Life: 12 months
Serving Size: 1 person per pack
Ingredients Used: Soybean Protein, Water, Vegetable Oil, Salt, Pepper, Sichuan Pepper, Cumin, Sesame, Spices, permitted flavourings
Allergen Information: Contains soybean
Flavour: BBQ, Spicy Mala
Type of Vegetarian: Vegan
Certification: HALAL, MeSTI
Flavour: BBQ, Spicy Mala
Product Specifications
Plant-based
The product is plant-based, no meat is added in the product, which is very suitable for vegetarians and also received positive feedback from non-vegetarians.
Natural soy products
Using natural ingredients to allow us to eat more healthily.
Featured raw material
The product is made of selected soybeans as vegetarian meat. Soybeans are rich in plant protein, therefore this nutritious soy product can improve health and prevent pollution, create a healthy diet for the consumers.
Fresh & Juicy with chewy taste
Chewy texture from the snack, just need ONE bite & the taste will occupy your taste buds. Feel this delicious flavour to everyone!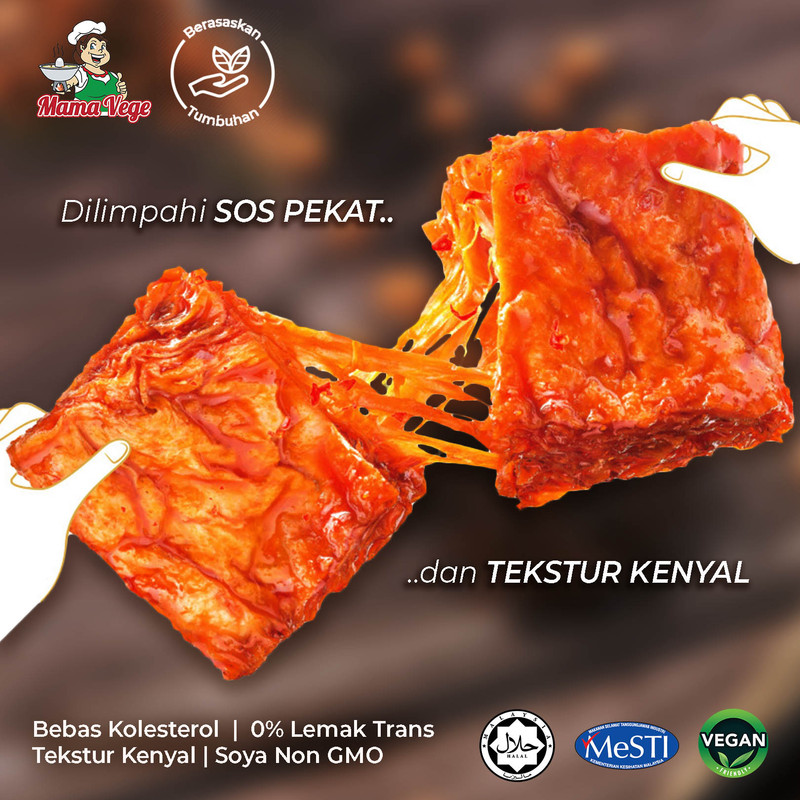 似肉非肉,让你吃肉不长肉
✅0%胆固醇 ✅口感Q弹,好吃不长肉 ✅天然食材 ✅超低脂肪
产品名称:MAMAVEGE 蔬食香片
产品重量:22克/片
保存方式:存放在阴凉处避免日光直接照射
使用方法: 开袋即食
保存期: 12个月
产品份量: 1人份/片
成分: 大豆拉丝蛋白,饮用水,植物油,食用盐,辣椒,花椒,孜然,芝麻,香辛料,食品添加剂
敏感源信息: 含有大豆成分
口味: 烧烤, 麻辣
素食种类:纯素
认证: 清真认证, 食品安全问责工业认证
敏感源信息: 含有大豆成分
产品规格
基于植物
产品是基于植物,无添加任何肉类材料在产品里,非常适合素食者食用,也受到非素食主义者的喜爱。
天然大豆制品
使用纯天然食材,让您吃得健康又安心。
精心制作
精选优质原料,从源头为美味打下基础。产品是由精选大豆做为素肉原料。大豆含有丰富植物蛋白质,所以这营养丰富的豆制品,能回顾健康无公害,为消费者创造健康饮食。
鲜嫩多汁,Q弹口感
入口有嚼劲,一口就霸占你的味蕾,每一口都在感受满满的鲜香美味!
Reviews